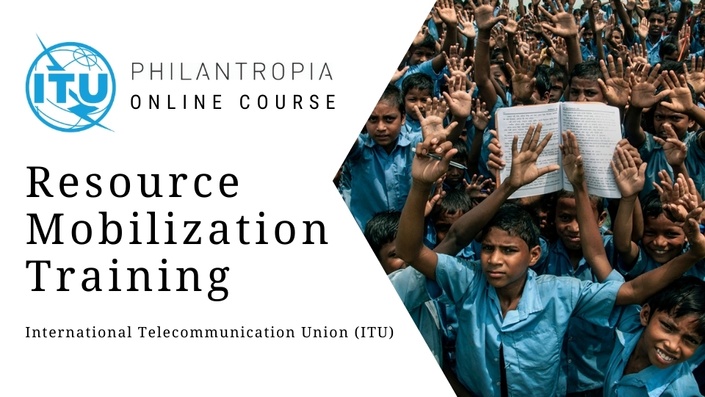 Resource Mobilization Training For ITU
International Telecommunication Union
Welcome to the ITU Resource Mobilization Training Hub.
The Hub offers a wide range of training courses as well as many useful downloadable resource guides.
Please complete the required five modules listed below. At the end of each module successfully complete the quiz to move on to the next module. After completion of the five modules you can download a certificate. The certificate is a prerequisite for participation in the expert sessions conducted in February.
The modules cover the following topics:
The Resource Mobilization Strategy
Donor Research
Donor Networking
Eligibility
Proposal Writing
After registration you will have access to an additional 12 online courses that you can complete at your own pace and convenience covering the following topics:
How to Raise Funds from European Foundations
European Commission Funding
How to Raise Funds from USAID
How to Raise Funds in Humanitarian Emergencies
Creating Donor Attractive Logical Frameworks
Fundraising from Corporations
The Proposal Cover Letter - A How-To Guide
How to find 50 donors in 10 minutes
How to Fundraise When Your NGO is Brand New
How to Develop a Fundraising Strategy in Times of the Coronavirus
Fundraising in the Time of the Coronavirus
The Most Common Questions About Fundraising - Finally Answered!
Please contact us at: [email protected] with any questions. We look forward to working with you!
Your Instructors
Erik Detiger, Team Lead and Lead Trainer
Erik, the CEO of www.philantropia.org, is a development professional with over two decades of experience working in the field of international philanthropy and fundraising. As a highly successful international project manager and fundraising professional, he has raised over US$250 million in the non-profit field for numerous international projects from a wide variety of government agencies, foundations, and institutions. Erik has trained well over 5000 professionals in classroom and virtual/online settings.

Dr. Eva Wieners, Project Coordinator and Trainer
Eva is based in Germany and has worked for nearly a decade with NGOs on the grassroots level in Nepal in the field of capacity development and promotion of sustainable agricultural practices. Before that, she worked in South America and Europe with different organizations. She holds a Ph.D. in geography with a research focus in sustainability and inclusion in development projects.

Ursula Becker-Peloso, Expert Trainer
As a principle of the Munich Fundraising School (/www.munichfundraising.school), Ursula Becker-Peloso is responsible for the program developed for Non profit professionals in Germany and Austria. Ursula is a business economist and owner of the consulting company Fundraising & More. Ms. Becker-Peloso has over 25 years of international sales and marketing know-how as well as in-depth fundraising knowledge. She has been working in the non-profit sector since 2010, where she can use her professional experience for fundraising. To strategically align and position NPOs and foundations in fundraising, that is their calling. She is a guest lecturer for fundraising at the FHS Landshut (social management) and a sought-after speaker at associations, companies and clubs, as well as volunteering for foundations and charities.